.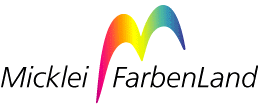 .
Process colour charts for the latest Media Standard*
The pure pleasure for the professional colour dialogue:
PSO - CtP - L*/a*/b*/ - ISO - Delta-E ... all done and realized in the best way.
Process colours (CMYK) are now internationally printed as the like,
with these ISO inks, L*/a*/b*/ colour coordinates, PSO paper grades and dot gains.

Enjoy a completely new feeling of colour determination for textiles, packages, household goods ...
also for headlines, backgrounds and graphic symbols.
See how your chosen colour will look IN CMYK BEFORE PRINTING!
.
.
.

.
......

Typ. function of the VierFarbSelector
.

Creative versatility
A cornucopia of 40.000 genuine colour tones awaits you in this DTP process colour atlas. No optical duplicates. Finest shading through 4.000 pastel colours! Aesthetically balanced arrangement of colour shades. Background and dividing lines in neutral bright grey. Dull varnished backgrounds prevent the appearance of fingerprints.
The highlight
The round-hole die cuttings make colour determination child's play. Whether for product colours, for difficult colour tones at the press (dry checked) or for the conversion of special colours of ALL kinds - estimate the yellow part, put on the scale: The colour tone finds nearly itself, leading your eyes. No bending, no folding, no cutting out.
All in ONE hand,
in yours: 248 one side printed colour scales on 100 boards, each size 24,8 x 31,0 cm, in a sturdy ringbinder. All (officially) standardized paper grades for offset printing (5 for sheet and web offset, 1 for newsprint) are separated by index dividers. We take 'standard' seriously - not as wishful marketing thinking.

Mahagony or Auburn?
No Problem! Not olive or prussian blue, blackberry, dark purple etc. either, due to 9.000 saturated colour tones smooth darkened in 4 grades with 20, 40, 55 and 65% Black.
Or two colours only?
Choose in 5%-steps from 0-100% out of dreamlike beautifully presented colour tones the best fitting Cyan-Yellow or Magenta-Yellow shade.

Clear structure
through only one yellow sequence (in the main part) in spite of 4 different darkening values with black. Yellow percentages designed as register tabs.
Printable colours only
Are there any 'unprintable' colour tones? Yes there are! They are those shades, which are beyond the max. sum of dot percentages, which is different for each paper grade. It varies between 245% (for newsprint) and 340% (for coated glossy paper) and is marked down by darker dividing lines and by a digit. The above pic-ture shows it for paper grade 5.
Meticulous selection
of colour tones by using the 'fine tuner', a cardboard in neutral grey with 7 different die cuttings. A great help when specifying tint values, as your eye is not influenced by surrounding colours, e.g. for the adjustment of headlines with backgrounds.

.

.

Why paper grades?
Actually they represent the composition of the paper and it's surface. As an effect, colour tones built up with the same CMYK values look different on different papers and in different printing processes, as is visible on the above picture, which shows the standardized paper grades.

.
.


Technical Details

VierFarbSelector Edition 3:
Concerning colour selection for offset printing you will be on the safe side.
Indispensable for profi-photographers, print buyers, designers, graphic artists, prepress, offset printers.
Made in Germany. Reliable, innovative, proportioned.


VierFarbSelector is a German word and means literally FourColourSelector or process colour selector. The colour charts of the VierFarbSelector are internationally protected by copyrights and related rights. VierFarbSelector Copyright 1993-2013 and Publisher: Michael Micklei. Pirating will be prosecuted. *The publisher of the VierFarbSelector is under no contract with the bvdm (Confederation of Printing and Media in Germany), who has developed the Media Standard. The VierFarbSelector is merely the practical representation of those values, paper grades, printing inks etc., which are requested by the Media Standard for offset printing and newspaper rotary printing